Me and the Transbaviaans
My first of three MTB goals for 2010
Well sometimes you do things that you say you will not do again. This year is no exception to the rule. Lekker stupid, né!
Yes, I have decided to do the gruelling Transbaviaans again.
Why? Do not ask me because I do not have the answer. As some of you will recall my last words after I completed last years race were: "No I will not do it again". Ja right, and here I go again. For those who do not know what the Transbaviaans is: It is the longest single stage team Mountain Bike event in the world. It is 230km from Willowmore through the Baviaanskloof to Jeffrey's Bay and you have 24 hours to complete the race. This year it will take place on the 14th August.
My brother Martin is one of my team mates again and also joining us this year is: Renier my spinning mate and Rodney a friend of Martin. Both Martin and Rodney is from Cape Town.
So why do I think I will do better this year and what make this year different from last year:
Scott (my new MTB) will definitely make a huge difference. Duel suspension against last year's front suspension only, of my Giant. (Thank you again, to Andrew and Marinda Nel for this great gift)
I did more kilometres on the bike than last year. Last year I relied on spinning only… OOPS big, big mistake.
Last year I had influenza and subsequently was off training for three weeks prior to the event.
Last year the race was an unknown to me.
Nutrition during the race was not good.
Last year it took us 16 hours 30 min to complete the race. This includes more than an hour that we wasted on flat tyres. This year I aim for 15 hours.
Breakdown of time at each water point:
For this year my first goal was to get rid of unwanted 5kg or rather 8% body weight. Get it down to 14%. I am at my goal and now to maintain it. I will have to gain 1 kg before the race to have some reserves.
Next problem that I had, after changing from my old Giant MTB to Scott, my feet got numb and my knees started to ache. I went for a complete bike set-up and that made a huge difference. My left hand still goes numb on long rides, but that I have to live with, since it seems I cannot find the solution to the problem. The third problem that I had was the soccer world cup. We had a lot of work for the soccer that consumed a lot of my time and I lost two weeks of training and just as I thought I am going to start training again the flu got hold of me. Yes again. That after I swallowed 4000mg of Vit C every day. I was flat in bed for 4 days and with the help of an injection and a dose of antibiotics, I was on the spinning bike the next week. Slow in the start but at least I was on the bike.
This year I took a different training approach. I started earlier with my preparation and did a lot less weight training than last year. I spent more time and kilometres on my bike than last year. Mayor events that I partake in for my preparation:
Kremetart 175 km (this is 'n road race but we were quite a few Mountain bikers participating)
Various training trips to Cullinan. Between 100 and 140km each.
Spent a weekend in Tzaneen in the mountains. Although the Transbaviaans starts at 730m above sea level and ends at sea level, it is not all down hill. You hit the mother of all climbs at 140km and that is in the dark. We climb 500m in 10km's. It does not sound a lot but that after you completed 140km and a little climb of 5km with an accent of 200m just before that. On 190km you get a climb of 18km that really drains your last resources. No wonder they call it the "Never ender".
Here is the profile of the Transbaviaans: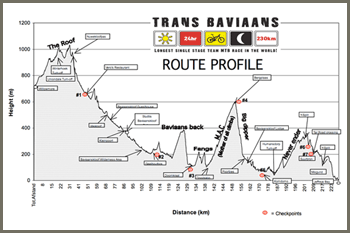 I still need to do three looonnnggg rides over the coming three weekends to complete my preparation. One ride must at least be a 150km plus. Must spend at least 8 to 10 hours in the saddle at a time. The only problem is, here are no mountains in Pretoria.
On the nutrition side, I followed my brother Martins' advice and changed to Hammer's Perpetuem, this made a huge difference in my energy level during long distance rides. This stuff is amazing. It keeps your energy level constant and you actually do not need to take in any extra food during a long ride.
They say it is sometimes better to know what is waiting for you than not to know. Well, in this case I do not know whether it is better to know what is coming my way. If I can recall some of it: numb bum or rather absence of a bum, sore legs, being out of breath, cold and gatvol. Last year the weather was great. A bit cold during the night but not too bad… no actually I lie, it was very bad. If I think back at the last water point where I shivered so much that the coffee spilled out of the cup! I had to stand next to a fire to defrost. If it rains, it is bad very, very bad. Then it is not fun anymore, not that it is fun in the first place, pure stupidity. So we all hope for great weather, no mechanical breakdowns, flat tyres or tumbles. How do they say, keep the rubber on the ground.
If you would like to know more of the Transbaviaans visit their site.
www.transbaviaans.co.za
Yes, I am worried: Very worried, nervous, scared… call it what you would like, but I will be there DV at the starting line at 10:00 on the morning of 14 August 2010.